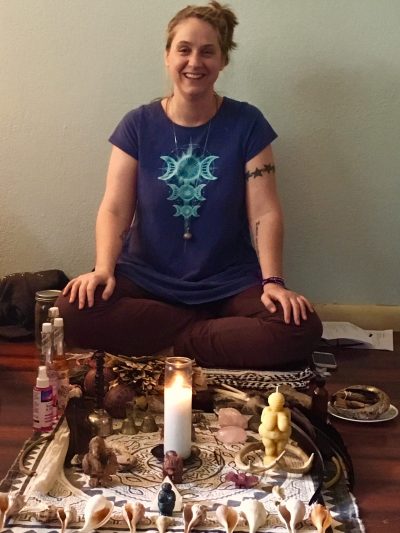 About 16 years ago people started asking me to train them in the shamanic practices that I was using in my daily life and with private clients, and to offer more than the semi-regular workshops that I was sharing.
Up to that point, it hadn't occurred to me to train others.  I sat with it and consulted my guides for a few months, while creating a new 4 month training that could be of service to people from all walks of life.
Fast-foward to 2019 and I've shared 10 years of 4 month trainings, as well as 3 years of Advanced trainings and even have students moving into different forms of Apprenticeship.  It's been quite a learning experience for all of us and I absolutely love it.
If you are interested in diving deep into your own gifts, finding your own way of sharing medicine with the world, empowering how you walk in your daily journey and stepping out of your comfort zone in order to transform, I encourage you to email and discuss if this is a training that can be of support to you.  This training is for those who are truly ready to step into personal responsibility and level up your life.
This is more than a workshop series.  This is training.
Some words from recent graduates of my 4 month Shamanic Training.  Each of these students decided to move forward with my year-long Advanced Training as well and are creating miraculous shifts in their lives as well as empowering others.  It's such a gift to witness.
"Bloom's four month training is nothing short of life-changing. Bloom gave me the tools and empowered me to use them in my own way to find my mojo and apply it to my life's purpose! Committing to this training is committing to all the parts of yourself that are longing to be nurtured, cultivated, and revealed. Bloom creates a beautiful network of people who can whole-heartedly witness and support you in your growth. " ~T.W.
"Training with Bloom has had a profound impact on my daily life. I now have personal relationships with so many guides, helpers, supporters in the realms, and the tools and guidance that Bloom shared with us gives me the confidence to navigate anything that comes my way.
I'm deeply grateful for the gifts that Bloom is sharing, and I would highly recommend the 4 month training to anyone who feels even the slightest call to connect on a deeper level." ~S.S.
"I highly recommend Bloom's Heart of Service training.  Within the container of this training, I was able to hone in on some major experiences in my past that were affecting me physically and emotionally. Bloom helped me to recognize the events and their lasting effects, as well as to work through the trauma I was still carrying while integrating the experiences gracefully.   It has been a few months since the training ended, but I still feel the ripple effects of the work we did then." ~T.A.
Each student in the training is required to be registered in my Online Shamanic Mentorship as well, in order to receive consistent support between training days.  Come to a Cacao Ceremony or book a private session if you've not worked with me before, so that you can get to know me and my work and make sure it feels resonant for you.  This is also an important pre-requisite.
Below are details, dates, pricing and more.
Email me through my website, www.BloomPost.com to start the application process and step into a whole new phase of your life!
Highlights of the Course Include:
Shamanic Journeying Tools & Techniques
Authentic & Tangible Connection with your Spirit Guides
Plant Spirit Medicine
Calling in your Medicine Song
Soul Retrieval
Creating Your Personal Altar
Working with shamanic tools/ Clearing & Claiming Sacred Medicine Pieces
Creating Personal Ritual
Energetic Grid Work & Activation
Energetic Clarity & Protection
Connecting with Your Healing Team in the Realms
Cacao & Tobacco Ceremonies
Community, connection, accountability and more.
Please make sure you are available on all training dates, including make-up date, before emailing to apply. These dates are as follows:
January 18th
February 15th
March 28th
May 9th (day before Mother's Day)
May 16th (Makeup if needed)
We meet 1 day each month in Black Mountain, NC (about 20 minutes east of Asheville) from 9:30am – 5:30pm.
Cost per month is $200 for a total of $800 for the full course. Non-refundable Deposit of $100 with Registration Form to confirm your space. Remaining $700 must be paid by January 1 or can be paid ahead of time.
Facebook event information can be found here: https://www.facebook.com/events/350028609014301/
*Email Bloom through her website, www.BloomPost.com to receive an application and set up an informational interview*