Blessed Imbolc dear ones as we celebrate the returning of the light while we are still in the throes of deep winter.
This is a sacred time of stillness, just before the dawn of Spring.  Much like early morning, when you can feel yourself waking up yet want to savor the sweetness of sleep and linger a bit longer under the covers before making your way out of bed.
Though Mother Earth is slowly waking up and the energies of Spring are beginning to be felt, this is a time of patience and willingness to stay still with the seeds that are not yet ready to be planted.  We hold our seeds, our ideas and dreams close to us, hold them sacred and set intentions while we wait until the perfect divine time to let them go and grow.  This is a time of savoring the last weeks of winter and honoring the depth within, in order to fully rest and prepare for the coming busy seasons.  Much like soaking seeds before preparing, this is our time to soak in the stillness of deep winter.  Preparation and intention creates deeper roots, which in turn allows for growth that is integral and fulfilling, as well as supportive to more than simply ourselves.
It's a powerful time to embrace and appreciate all that we have, even in the bleakest of moments.  At this time of year, our ancestors would be living off of their stored foods and might have dwindling supplies as they tried to stay warm until the Spring.  This would be the time of patience, trust and deep awareness that all is well because the seasons do change, the energies will shift and Spring in all her bounty and fertility will rise again.  Our ancestors understood that this season of dying away is necessary in order to create new growth, and the same holds true for our internal growth as well.
Goddess Brig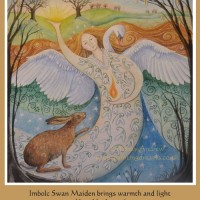 id feels the light of the days lengthening and she is slowly awakening from her winter slumber.  The Earth is pregnant with possibility and will not be rushed into giving birth into a beautiful and luscious Spring.
Set your intentions and hold those seeds of intentions close to your heart until it is time to plant them into the world when the ground is soft and ready.  Rest, self-care, quiet and meditation is powerful at this time.  Allow yourself to fully let go of all that no longer serves and supports you.  Let the dead things fall away in the winter energy, and prepare yourself for the coming season when you will plant and grow all that you desire at this new beginning of your life.  This is the time for courage and trust in divine order.
Utilize this opportunity to fully receive the benefits of the energy created from the shifting of the seasons as well as the waning Moon medicine as you set your intentions and let go of old patterns, programs and paradigms that have been weighing you down and holding you back.
This is the time.  You are ready.  It is divinely guided and you are infinitely capable of shifting, healing and manifesting as you truly desire.  You are the god/goddess of your life, of your seasons, of your journey.  Now is the time.